Staff at Clevedon Pier have Tweeted a video of the sea off the North Somerset coast at high tide.
It's filmed from the Porthole Room below the Victorian structure. The water is lapping at the round window - testament to the high seas after Storm Eleanor.
Sorry, this content isn't available on your device.
This is what the view is like during low tide...
Advertisement
As a new visitor centre opens, we've had our aerial camera out on the beautiful Clevedon Pier - take a look at these stunning pictures.
Read the full story ›
Clevedon Pier will get an extra £75,000 in Government grants to help maintain and repair the historic structure.
The landmark, the only Grade I-listed pier in the country, was one of just eight projects to win a share of £800,000 from the Coastal Communities Fund.
The money will go towards essential renovation work.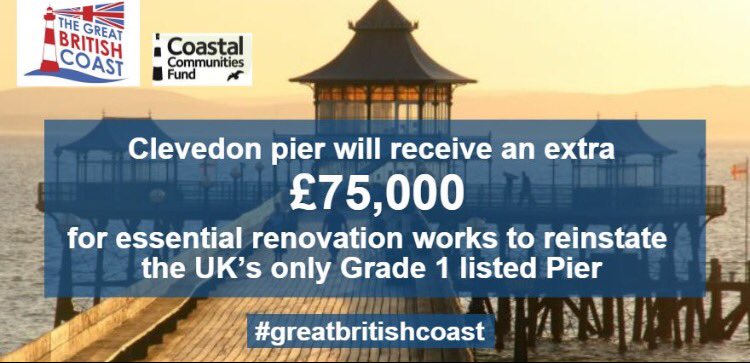 You can now own shares in a West Country landmark: Somerset's 150-year-old Clevedon Pier.
The only Grade 1 listed pier in the country, once described by former Poet Laureate Sir John Betjeman as "the most beautiful pier in England", is now part of a community share offer.
The trustees are hoping to raise £350,000 to help pay for new visitor facilities, which are currently being built.
A music video featuring Somerset's Clevedon Pier has won the Brit Award for British Video.
Boyband One Direction filmed 'You and I' in 2014. A brass plaque was placed on a bench there to mark the occasion,but it had to be moved after over-zealous fans covered it with their own tributes.
Advertisement
A plaque commemorating boy band One Direction's visit to Clevedon Pier has had to be moved because of over-zealous fans.
Read the full story ›
They're possibly the West Country's most romantic couple. Hazel and Jay Preller from Weston-super-Mare set themselves the target of grabbing a kiss at the end of every seaside pier in the country.
It took them two years and they've written a book about it.
Here they tell our presenters their story.
The Heritage Lottery Fund has awarded two grants to the Clifton Suspension Bridge and Clevedon Pier.
Read the full story ›
As the only intact Grade I listed pier in England, Clevedon Pier is of immense heritage importance and much-loved by the local community.
HLF's funding will enable the Clevedon Pier and Heritage Trust to create a sustainable future for the pier ensuring its survival for the next hundred years.
A much-needed new visitor space will be created and used for community events, workshops and learning activities and will also include a café and toilet facilities, helping the Pier become a first-class heritage attraction once again.
These improvements will also boost visitor numbers and contribute to the local economy.
Load more updates