The parents of a little girl, who vanished through a hole in the snow and became trapped, are 'very grateful' to the fast-acting rescuers.
Read the full story ›
Richard Cole's life was taken 'by an act of violence' in Amsterdam, according to the boss of the auction house in Stroud he was working for.
Read the full story ›
Advertisement
The body of a British man, who went missing in Amsterdam has been found in a canal - Dutch police have confirmed.
30-year-old Richard Cole, from Dursley in Gloucestershire, had been travelling from Copenhagen to Assen via the Dutch capital when he went missing.
He'd been in the Thorbeckeplein area of the city at about 2am UK time on January 25 when he vanished.
His body was found using sonar equipment and recovered by police divers after a tracker dog became "restless" around the Herengracht canal.
It was identified by Mr Cole's brother Lee who had gone to Amsterdam to visit bars and distribute leaflets as part of the search.
The Dutch police will continue to investigate the circumstances surrounding Richard's death and detectives from Gloucestershire will be liaising with them in order to provide information to the coroner's office.

Richard has been formally identified by his brother Lee"
– Gloucestershire Police
The family of a man who went missing in Amsterdam say they don't know what to do, and are retracing his steps to jog people's memories.
Read the full story ›
The family of a Gloucester man who has gone missing in Amsterdam have flown out to the city to join the search.
30-year-old Richard Cole from Dursely had been travelling from Copenhagen to Assen via the Dutch capital when he disappeared.
He was last seen in the early hours of January 25, where he spoke to his girlfriend on the phone.
The family of a British man who has gone missing while travelling in Amsterdam have made an appeal for help to find him.
Read the full story ›
Advertisement
Police are still on the look out. for a wallaby that is on the run in the Dursley area.
Officers received a call on Saturday night, 26 September, that a kangaroo was on the loose. They cornered the creature, which was later identified as a wallaby. near Woodmancote but it managed to evade them.
They tweeted the story as it happened (see below). It got wide attention on social media.
Police are no longer actively searching for the marsupial but animal experts are warning people not to approach it. Although they are not considered aggressive, they may react if cornered.
Bit of an unusual one. If anyone has lost a kangaroo in the Dursley area please contact us on 101 and quote incident 462. We have found one!
Kangaroo update - we have it cornered 'outback' of a house in Woodmancote but no owner identified yet.
Not the usual bouncers that we're interacting with on a Saturday night
Have you lost a wallaby? 'Skippy' seen around the Woodmancote near Dursley. Owners pse call 101 quote 462 of 26 Sept. http://t.co/aq9LpFiQJG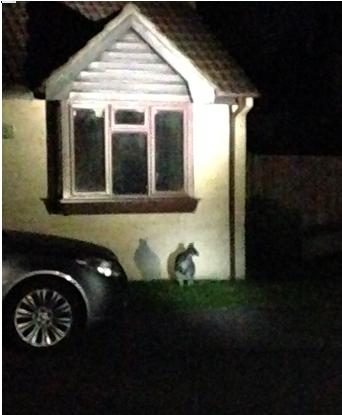 The manager of a care home in Gloucestershire has been jailed for stealing from vulnerable residents to fund her gambling habit.
Read the full story ›
A 67-year-old man from Gloucestershire who was told his arteries were bunged up so badly only 30 per cent of his heart was working is warning other men to get checked.
Simon Whiteley from Dursley thought he was healthy, until his wife persuaded him to see a doctor. He's now encouraging others to do the same.
David Wood reports: