Bristol's first elected Mayor, George Ferguson, has told ITV News the role should be scrapped.
Read the full story ›
Bristol Mayor George Ferguson has been accused of a "nasty personal attack" in a row over how the city's Green Capital cash was spent.
Read the full story ›
Advertisement
Bristol Mayor George Ferguson says there will be "further breakdown" of how the city's Green Capital cash was spent.
Read the full story ›
There's been anger in Bristol over how the city has spent £8 million of taxpayers money in its year as European Green Capital.
Read the full story ›
Our reporter Richard Payne will be interviewing Mayor of Bristol George Ferguson on Thursday and we want to know what you want to ask him!
Read the full story ›
The people of Bristol could have another chance to say whether they want to have an elected mayor.
Read the full story ›
Advertisement
A pair of red trousers auctioned for charity after being donated by a mayor famed for his legwear sold for just £51.
Mayor of Bristol George Ferguson is well known for always wearing red trousers, and donated a pair to a local group raising cash for refugees in Calais.
But after eight bidders battled it out on eBay, the trousers were sold for just £51 - the price of a pair of Levi's Standard Fit jeans.
"Whilst this is just a bit of fun, it's for a very serious cause so I'd encourage people to be generous.

In past auctions signed pairs have raised up to £300."
– George Ferguson, Bristol Mayor
George Ferguson has been caught on video calling a protestor "sick" and "a jerk".
An environmental protestor dressed as a fly confronted the Bristol Mayor about pollution at the Avonmouth Make Sunday Special event.
The free community event is one of several held around the city. The protestor, Ian Robinson, is an Avonmouth resident who campaigns on pollution in the area. He confronted the mayor with accusations of closing public services and diverting money into "bread and circuses".
The mayor told him people were enjoying the event and that he should "just go away".
The mayor has yet to comment on the incident, but tweeted about the event being a success.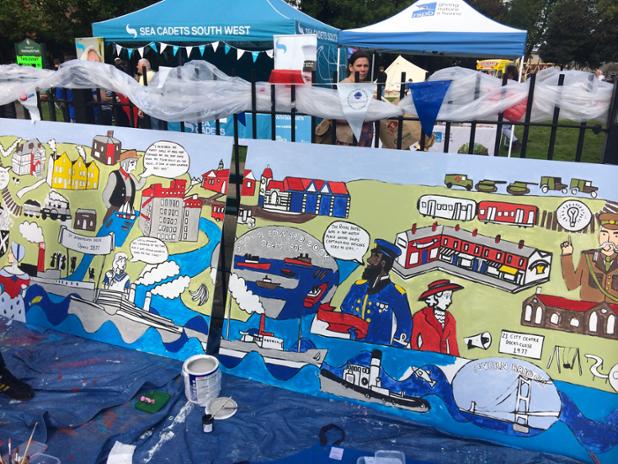 Marvin Rees will again be battling George Ferguson in next year's election for Bristol mayor.
Working in public health, Mr Rees ran against George Ferguson in 2012 - and was the current mayor's closest rival, losing by 5% of the vote.
He beat Labour Councillor Mark Bradshaw to the nomination - who was fired from the mayor's cabinet in June. after George Ferguson accused him of playing 'party politics'.
Bristolians will go to the polls to choose their mayor in May 2016.
"I am thrilled to be selected by my friends and peers in the Labour Party as their candidate to be Bristol Mayor, and I would like to thank Mark for a great campaign.

I am passionate about standing up and fighting for the people of Bristol and the things I know we need for this city to thrive. We need to do a different style of politics and to put people's needs first and foremost in everything we do."
– Marvin Rees, Labour's candidate for Bristol Mayor
A young Bristol rugby player killed in a suspected 'hit and run' in Clifton was beloved at school and awarded a prize for his contributions when he left, the principal has said.
25-year-old Daniel Hickey attended the Bristol Cathedral Choir School, and later played rugby for the Bristol Saracens.
The school's moving tribute to him joined dozens of others, including thoughts from Bristol mayor George Ferguson.
"Several colleagues here have fond memories of Dan and he was certainly held in high regard as a pupil: when he left in 2008, he was awarded our Becky Westlake Prize for Contributions to the Life of the School."
– Neil Blundell, Principal, Bristol Cathedral Choir School
22-year-old Tayo Jones from Southville has been charged in connection with Daniel Hickey's death, including causing death by dangerous driving and failing to stop after an accident. He appeared in court yesterday and has been remanded in custody until a hearing in October.
Two others, a 39-year-old woman and a 29-year-old man, were also arrested, and are on bail until September 9.
Load more updates