Ben Bradshaw has once again called on Labour leader Jeremy Corbyn to go and has urged people to support an online campaign to unseat him.
Read the full story ›
Kerry McCarthy - the Bristol East MP who resigned from Jeremy Corbyn's cabinet - says she's 'shocked and depressed' by accounts of racism.
Read the full story ›
Advertisement
Another West MP has added her name to an ever-growing list calling for a new leader of the Labour Party.
Bristol South MP Karin Smyth has joined at least ten shadow cabinet ministers urging Jeremy Corbyn to stand down.
In an open letter to her constituents she wrote:
Elections are the acid test for political leaders and when he became Labour leader I said that Jeremy Corbyn's job was to deliver the best electoral results for the Party he and I represent.

He has now led the Party into two nationwide electoral tests. In May's local elections across the country the Party barely held its head above water.

And in the EU Referendum, the Party failed to connect even with voters in scores of seats that have long been held by Labour.
– Karin Smyth
Karin Smyth has held the post of personal private secretary - a junior post - to Shadow Health Secretary Heidi Alexander, who has resigned from the shadow cabinet.
She concluded her letter by calling for a new Labour leader.
I know Bristol people need help and support in difficult times, perhaps now more than ever.

I also know Bristol needs a Labour government. It is my view we can only realistically deliver this with a new leader.
– Karin Smyth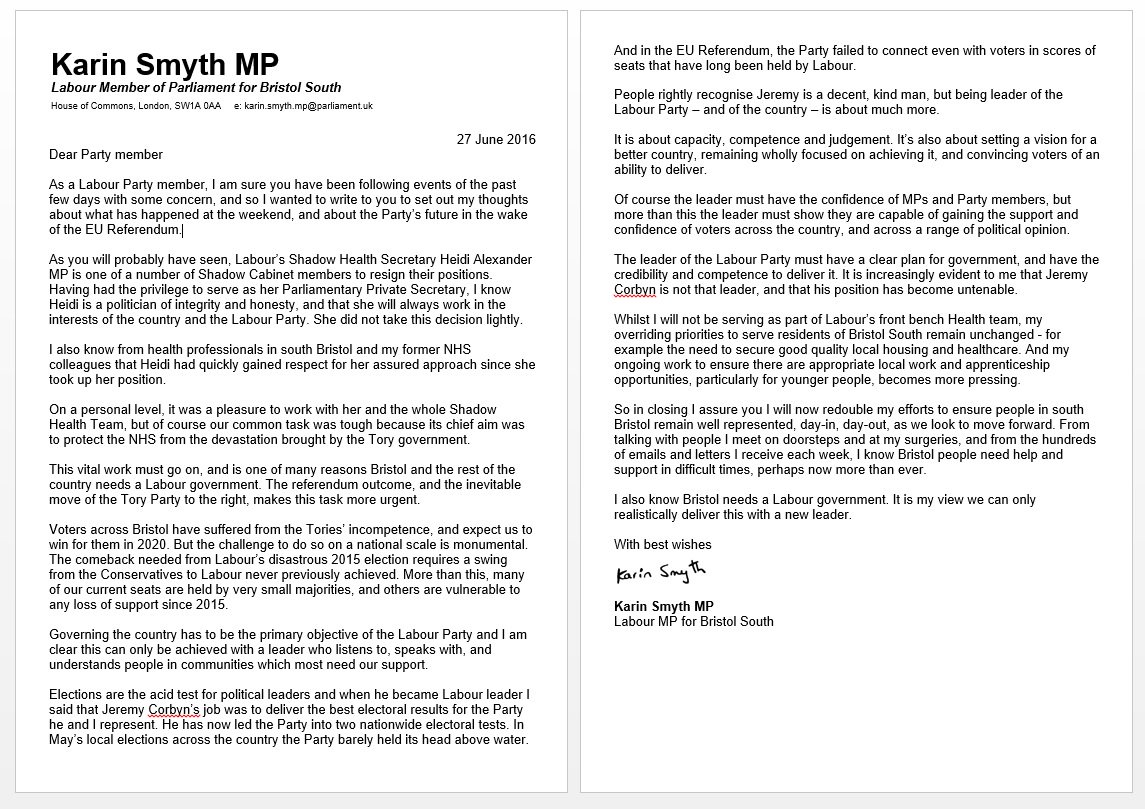 Kerry McCarthy has resigned as shadow environment secretary in protest of Jeremy Corbyn's leadership of the Labour Party.
She was an advocate for Britain to remain in the EU, and her resignation follows continued criticism from within the Labour party of leader Jeremy Corbyn's 'lacklustre' campaigning in the run-up to the referendum.
The Bristol East MP joins Lilian Greenwood, Lucy Powell, Ian Murray, Gloria De Piero and Heidi Alexander who have also stepped down from their roles
My letter to Jeremy Corbyn https://t.co/BqEo2F9RN6 Will still be standing up for the environment, but from the backbenches now
Advertisement
The Bristol MP and Labour's environment spokesman has laughed off claims that, as a vegan, she can't speak about farming and food.
Read the full story ›
As part of his Labour leadership bid, Jeremy Corbyn is attending a sold-out event at the Plymouth Guildhall this morning (10.30am).
Local Labour councillor Chaz Singh says he's galvanising both young and old - but still says that people are having to 'come out' as his supporters because of the negative coverage.
Two Labour candidates will go head-to-head this evening as they bid to become the next Mayor of Bristol.
Councillor Mark Bradshaw and Marvin Rees will address potential voters at Temple Meads station. Labour members will be able to vote in August on who they want to represent their party at next year's Mayoral election.
Exeter MP Ben Bradshaw WILL stand as deputy leader of the Labour Party after a last-minute scramble to secure support from 35 of his colleagues.
In the end he got the backing of 37 of them - following a late surge in support just before the midday deadline.
Our presenter Ian Axton interviewed him earlier today - about the scramble for support AND his attitude to the candidates for the Labour leadership.
Ian did ask one question that proved slightly awkward - what did Mr Bradshaw think of the hopes of left-winger Jeremy Corbyn in the leadership stakes.
Here, in a nutshell, is the Exeter MP's answer:
Mr Bradshaw is one of five candidates for the deputy leadership. The winner will be announced in September.
Load more updates