Devon police dog Annie managed to sniff out thousands of pounds worth of drug hidden deep inside a jar full of coffee.
Read the full story ›
Gloucestershire Police's award-winning dog Stella the Staffie and her colleague PD Quest have taken part in the popular trend
Read the full story ›
Advertisement
A police dog who tracked down 4 suspects and saved a woman's life - all in the course of 3 days - has been awarded a special commendation.
Read the full story ›
A partnership between the RSPCA and the police could change the future for thousands of unwanted bull breeds of dogs across the country.
Read the full story ›
The Chief Constable of Gloucestershire has survived an encounter with a police dog.
Suzette Davenport has Tweeted about her experience and it may look a bit nasty - but it was all in a good cause.
Ace from the K9 squad was practising ahead of the Gloucestershire Police Open Day at headquarters in Quedgeley on 17 September.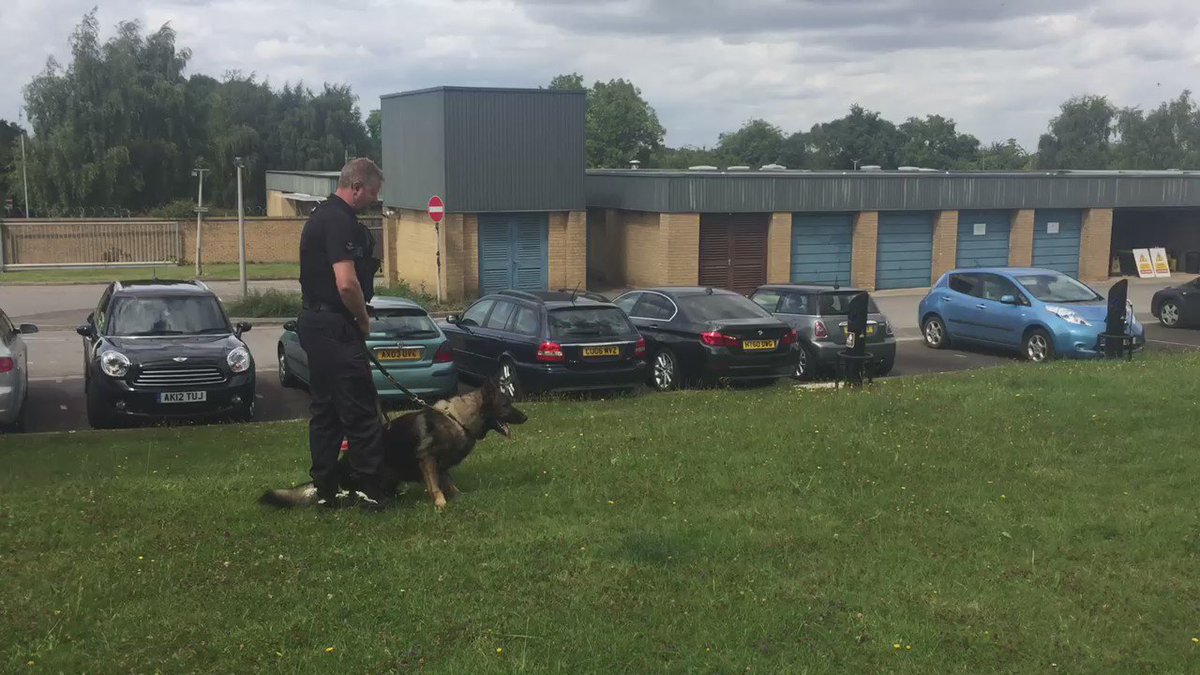 Fozzy the police dog has found tens of thousands of pounds of cash and drugs after a three vehicle crash in Corsham at the weekend.
Read the full story ›
Advertisement
A suspect must have thought he was barking mad when he gave himself up to police - after an officer pretended he was a dog.
PC Steve Hutton had tried to pull over a suspicious vehicle allegedly travelling over the speed limit in Swindon.
But, when a stinger device was used to stop it, the four occupants fled, and PC Hutton gave chase.
In an attempt to get the man to stop, the Roads Policing Officer at Wiltshire Tri Force shouted he had a dog - before barking for full effect.
To his surprise the man gave himself up, and PC Hutton promptly arrested him.
Pursuit in swindon. Chased suspect after decamp. shouted I was a dog handler and barked. Suspect stopped /arrested. https://t.co/hf2YsBCien
The arrested man has since been released without charge while police investigate the incident.
Former Devon and Cornwall Police dog Sasha has given birth to nine pups - who will all get a chance to follow in her 'paw' steps
Read the full story ›
The police force in Cornwall have some new recruits: four puppies who have been brought over from Germany.
Read the full story ›
Avon and Somerset Police duo PC Andrew Jerreat and four year old Police Dog 'Elmo' are representing Tri Force Operations at the National Police Dog trials today.
The four day event is in Stirling where 21 police dog teams from various forces across the UK put through their paces to identify who are the top dogs in the country.
The dogs and their handlers will be assessed on the full range of police dog duties including tracking, obedience, criminal work and crowd control.
PC Jerreat entered the South West and Wales Regional Dog Assessments in March. He fought off stiff competition from 12 officers and qualified to attend the nationals.
This will be my first time in the nationals and I am really looking forward to the challenge. I am very proud of Elmo, he is an outstanding partner.

Elmo has been with me for 3 years and he came to me as a puppy from our breed scheme.

We have worked hard to become a team and continually strive for excellence.
– PC Andrew Jerreat
Load more updates