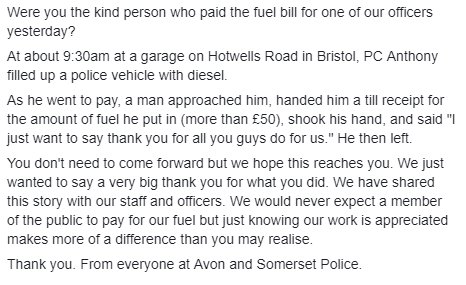 Avon and Somerset Police have tweeted a thank you note to a "kind person" who paid for the fuel bill of one of their officers.
They said it happened around 9.30 in the morning on Hotwells road in Bristol, when a man approached PC Anthony with a till receipt of over £50, covering his fuel, and thanked him "for all you guys do for us".
The note goes on to say the story of the kind act has been shared with their staff and that it "makes more of a difference than you may realise".
From Tuesday to Friday, people can get rid of the knives and "bladed items" they don't want without facing prosecution.
Read the full story ›
Advertisement
Plymouth City Council leader Tudor Evans has attacked plans to merge Devon and Cornwall Police with the Dorset Constabulary
Read the full story ›
Detectives are investigating the murder of Dawn Sturgess, 44, and the poisoning of her partner, Charlie Rowley, 45.
Read the full story ›
Women in Bristol are being repeatedly sexually assaulted on nights out, say Avon and Somerset Police.
Read the full story ›
Advertisement
The Chief Constable of Wiltshire Police who led the controversial Edward Heath inquiry is being investigated for alleged misconduct.
Mike Veale is being questioned by the police watchdog after an anonymous allegation was made to Wiltshire's Police and Crime Commissioner that he deliberately damaged a mobile phone during Operation Conifer.
Wiltshire PCC said the allegation has not caused them to question the outcome of the Edward Heath investigation.
Mike Veale is currently the preferred candidate to become Chief Constable of Cleveland Police.
We received a referral from the Wiltshire Police and Crime Commissioner in November 2017 detailing anonymous allegations about Chief Constable Mike Veale relating to Wiltshire's investigation into Sir Edward Heath.

After a thorough assessment, we decided the part of the referral relating to the disclosure of confidential information was insufficient to indicate either a criminal offence may have been committed or a breach of professional standards. That matter has been returned to the Police and Crime Commissioner to deal with in any manner determined appropriate.

The IOPC has however decided to independently investigate a second part of the referral relating to allegations that a mobile phone belonging to Wiltshire Police was deliberately damaged by Chief Constable Mike Veale.

This investigation is in its early stages.
– IOPC spokesperson
Police forces across the South West are working together to stop people using their mobile phones at the wheel.
The increase in law enforcement will run in line a National Police Chief's Council campaign.
It comes as figures from the Department for Transport showed that in 2016 32 people were killed in road traffic collisions where the driver of the vehicle was using their mobile phone.
Whatever's happening on your phone can wait, don't risk it. Mobile phone use whilst driving remains one of the biggest concerns we hear about from the public. Reaction times for drivers using a phone are around 50% slower than normal driving, so put your phone out sight in your bag or on the back seat and make sure you're focussed on the road.

We've released a video today that shows how to put your phone into a mode that automatically lets anyone contacting you know you're driving and therefore unable to take calls.

There's no excuse for using your mobile on the road. You could end up with points on your license and a fine, or for new drivers you could have your license taken away.

Legislation introduced in March 2017 means those caught can receive six points on their licence and a £200 fine.
– Superintendent Andy Williams, Avon and Somerset Police
The progamme is an extension of Avon and Somerset Constabulary's Volunteer Police Cadets programme.
Read the full story ›
The raids come ahead of a national report released next week which will make recommendations on how to tackle the crime.
Read the full story ›
Load more updates