Police in Bristol are investigating a disturbance during the early hours of 18 May, which led to a man being assaulted.
Read the full story ›
Police were called after a group of people were seen getting off a boat into a van. The van was stopped on the M5 with 30 people inside.
Read the full story ›
Advertisement
Scientists have reconstructed the face of a man found dead in a Cotswold wood in the hope of identifying him.
Read the full story ›
The victim was allegedly attacked between at the bus stop in Queen Street, opposite Exeter Central Train Station, on Sunday, March 24.
Read the full story ›
Large parts of Dawlish town centre have been evacuated following reports of a gas leak.
Read the full story ›
Viewers of ITV West Country have noticed a particularly suitable name for a police officer who featured in a special programme.
Read the full story ›
Advertisement
The force says the guards will limit the number of assaults on officers, staff and other emergency service workers.
Read the full story ›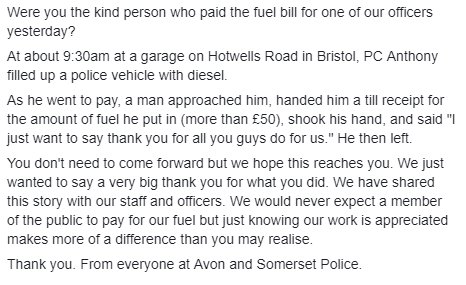 Avon and Somerset Police have tweeted a thank you note to a "kind person" who paid for the fuel bill of one of their officers.
They said it happened around 9.30 in the morning on Hotwells road in Bristol, when a man approached PC Anthony with a till receipt of over £50, covering his fuel, and thanked him "for all you guys do for us".
The note goes on to say the story of the kind act has been shared with their staff and that it "makes more of a difference than you may realise".
From Tuesday to Friday, people can get rid of the knives and "bladed items" they don't want without facing prosecution.
Read the full story ›
Plymouth City Council leader Tudor Evans has attacked plans to merge Devon and Cornwall Police with the Dorset Constabulary
Read the full story ›
Load more updates