The Severn Crossing tolls will be abolished in December. From December 13 all vehicles using the bridges will be able to travel for free.
Read the full story ›
Police in Wales have found a body in the search for missing Hollie Kerrell from Kingsbridge. A 35-year-old man has been arrested
Read the full story ›
Advertisement
The M49 is currently closed Southbound due to an overturned lorry and fuel spillage.
The blockage is between J22 on the M4 and J18A on the M5.
It is expected to reopen around midday.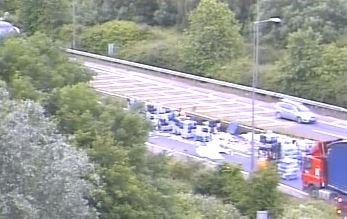 The Court of Appeal has dismissed an appeal from the man convicted of murdering a teenage runaway and burying her body wrapped in a carpet.
Alan Charlton, from Bridgwater, and co-defendant Idris Ali were jailed in 1991 for killing 15-year-old Karen Price in Cardiff in 1981.
Her body was discovered eight years later. Mr Ali was released in 1994 after a retrial where he admitted manslaughter.
Charlton referred his case to the Criminal Cases Review Commission in 2009. The case was sent to the Court of Appeal in 2014.
The appeal against the convictions of both Charlton and Idris Ali was heard by three judges last month and the judgement reserved until today.
This morning, Lady Justice Hallett delivered the ruling that the case had been dismissed.
But she said the court "shared the concerns of the CCRC about the conduct of some officers in the South Wales police force in the late 1980s and early 1990s".
Advertisement
Bristol Airport says abolishing air passenger duty in Wales would result in passengers and airlines flying from Cardiff instead.
Read the full story ›
Welsh International Matthew Morgan has told his club Bristol Rugby he plans to leave at the end of the season.
The 23 year old has scored 167 points in 26 appearances for the club since joining Bristol in 2014 but has indicated he wishes to leave in order to further his chances of international selection with Wales.
I'm grateful to Andy (Robinson) and the coaching staff for their understanding in me making this difficult decision.

I'm desperate to represent my country and leaving Bristol is the best opportunity for me to achieve this goal. My time at the Club has been fantastic and I have a great relationship with my team-mates and the supporters.

Until the end of the season, my focus is solely on helping Bristol be successful and ultimately win promotion to the top flight
– Matthew Morgan
Despite his small stature (5ft 8" and weighing less than 12st) Morgan has been at the heart of some of Bristol's best rugby over the last season starting moves at fly-half or finishing them from fullback.
He was named Championship player of the season 2013/14 and started for Wales in the Rugby World Cup pool clash with Fiji, while also making an appearance from the replacements bench versus Uruguay.
We're disappointed to lose a player of Matthew's quality because we felt he was developing well at Bristol Rugby.

But we can't fault a young man in wanting to play international rugby. I just hope that those giving Matthew advice, stick to the promises that have been made to him. These are the main factors behind his decision to leave.

Matthew is a quality player and has lit up Ashton Gate with his performances in a Bristol shirt. Since he's been here, he's grown into a confident player who has had the opportunity to represent his country at a World Cup.

We back Matthew in his decision and he will leave with our best wishes at the end of the campaign. Until then, he knows he has a job to do and will be focused on signing off in the best possible way.
– Any Robinson, Director of Rugby, Bristol
Lee brings with him a wealth of experience, knowledge and skills needed to undertake the post and will continue to hold his post as Chief Fire Officer for Devon and Somerset Fire and Rescue Service.

I believe that this will give a fresh perspective to the Adviser role, providing the opportunity to share and learn from each other and across borders.

As a serving Chief, Lee will understand the need to deliver effective services during these times of challenging budget cuts."
– Lesley Griffiths MP, Minister for Local Government and Government Business.
The Chief Fire Officer for Devon and Somerset said he was truly delighted to have been appointed as the Welsh Government's Chief Fire and Rescue Adviser and Inspector for Wales.
Lee Howell said he was looking forward to providing high quality independent advice based on 25 years public, private and charity sector experience in order to support the Welsh Government in its work.
I have strong family connections in Wales and understand and respect the passion and pride Wales has as a confident nation, driving forward change, whilst at the same time, being rightly proud of its past. I look forward to contributing to its future.

I am also looking forward to building even stronger relationships between the Fire and Rescue Services in Wales and the Welsh Government as we collectively tackle some extremely challenging issues whilst continuing to provide the high quality public services the people of Wales rightly expect."
– Lew Howell, Chief Fire Officer, Devon and Somerset Fire & Rescue Service.
Load more updates