One Direction star Louis Tomlinson has completed his takeover of Doncaster Rovers with South Yorkshire businessman and former club director, John Ryan.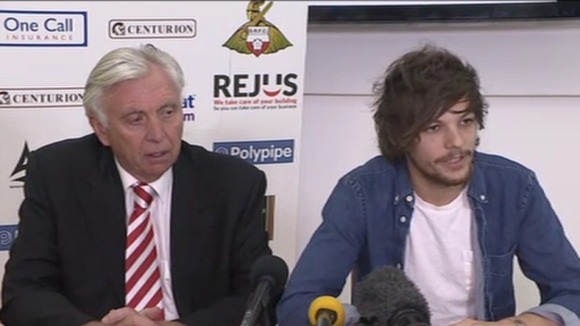 At a press conference today the 22-year-old who is from the town, spoke of his desire to make the club one of the most exciting in the Championship.
Tomlinson said he was delighted to take over the club he had grown up supporting:
Answering ITV Calendar's John Shires, Tomlinson said it was a great honour to be involved with the club after having once worked there as a waiter:
The One Direction singer said he and John Ryan had big ambitions for the South Yorkshire side and believes promotion is the next logical step for the club:
Anything is possible and there is no point in stumping your ambitions and saying anything other than that. We are very ambitious, we are enthusiastic and we are going to do the best we can. Where that will leave us we will have to wait and see but we are definitely going to do our bit. Let's see.
– Louis Tomlinson

Despite a busy touring schedule the fan-come-owner says he hopes to be heavily involved in the running of the club:

The pair also announced plans to allow fans to take a share of the club through what is believed to be one of the UK's biggest crowd funding campaigns ever.

A target of £2 million has been set, kicked off with a six-figure donation by the new owners, for fans to pledge money in support of the club.

The TomlinsonRyan Trust was set up by the new owners "to support and develop Doncaster Rovers Football Club. It has been setup for the benefit of club and with the aspirations of its supporters in mind. Its core purpose is to guarantee a successful financial future for the club and allowing fans to have a say and play a greater part in the running of the club."

If the £2 million target is reached, supporters will have a 5% share of the club. Contributors, who must be over 18 years of age, can join 'Club28' which has varying levels of membership granting fans a say in the running of the club and access to exclusive merchandise.