Badger Cull Debate
A protest is being organised by Nottingham animal rights activists against the proposed badger cull. Farmers and campaigners say it'll tackle disease in cattle - those against say it's unscientific and unethical.
Animal rights activists from across the Midlands have been campaigning against plans to introduce a badger cull.
Farmers say the animals spread Bovine TB to cattle, and they're losing hundreds of thousands of pounds each year because they're having to slaughter their herds.
The government wants to run a trial cull, which would allow farmers to shoot up to 70 per cent of the badgers in certain areas.
Supporters claim it's vital to help prevent the spread of the disease. But campaigners say it won't work and it's unethical.
Advertisement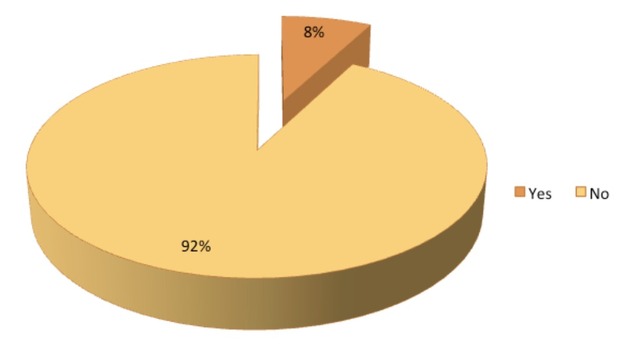 ITV Central held a poll today to find your feeling towards the government's proposed badger cull as a measure to control the spread of Bovine TB.
The results, as can be seen in this chart, are an overwhelming majority at 92% against the cull, with just 8% saying they agree.
For more on this story see our coverage here
The regional director of the National Farmer's Union John Murcer says research proves culling badgers reduces the spread of Bovine TB, a disease that has devastating effects on farmers.
Animal activists took to the streets of Nottingham today in protest against against the badger cull proposed by the government for this autumn.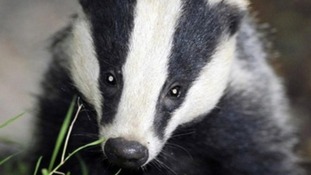 The Government says the latest results of a badger culling trial show it is effective with preventing the spread of TB to cattle.
Read the full story
Advertisement
Supermarket Tesco has released a statement in response to the protest taking place outside one of its stores in Nottingham against the proposed badger cull.
Animal activists say they feel that supermarkets have an ethical responsibility to not sell products from farmers who cull the animals.
Tesco says animal welfare is an important issue for many of its customers and it takes the responsibility seriously, but also recognises that Bovine TB is a significant threat to dairy farmers:
"Animal welfare is an important and sensitive issue for many of our customers and we take our responsibilities in this area very seriously. We also recognise the significant threat that bovine tuberculosis disease poses to our dairy farmers and their livelihoods. We are committed to supporting them through this challenging time and have no plans to stop sourcing from farmers in the affected areas. The cull policy and its implementation are a matter for Government and the farming community to take forward."
– Tesco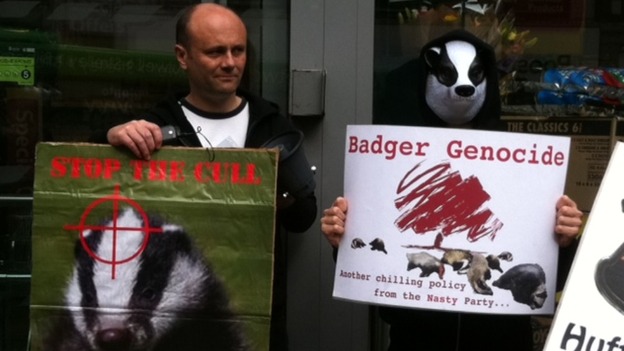 Animal activists in Nottingham city centre are protesting outside of a supermarket against the proposed badger cull this autumn.
They say they feel that supermarkets have an ethical responsibility to not sell products from farmers who cull the animals.
The government is proposing to cull badgers in an attempt to reduce the spread of Bovine TB, which is a major problem for UK farmers.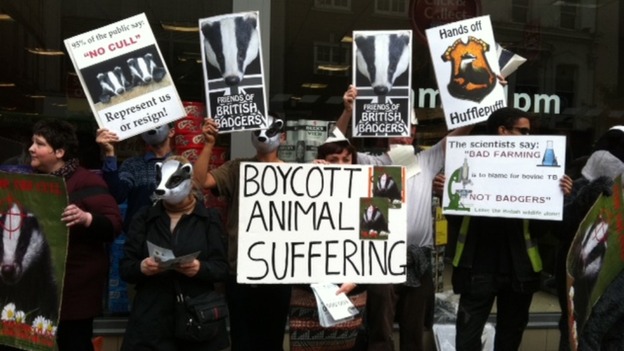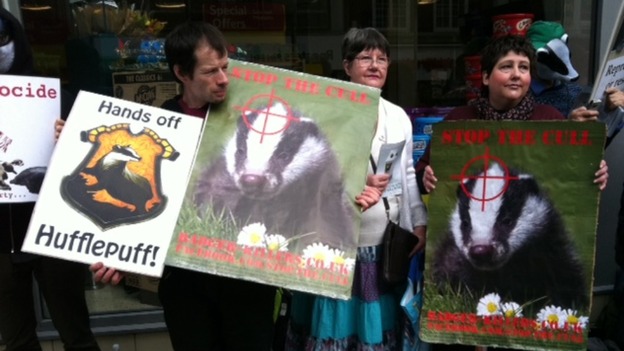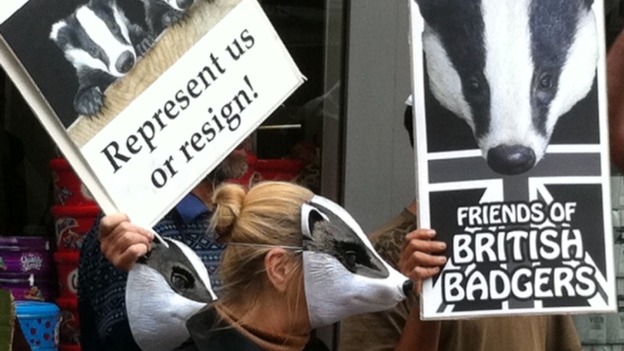 Derbyshire cattle farmer Barry Sargent does think a badger cull is needed. He's had to have several animals put down because they've contracted bovine TB, a short time after a badger set appeared in one of his fields.
The first licence to kill badgers was issued for a pilot cull in Gloucestershire.
Farmers will be licensed to shoot up to 70% of the badgers in a 300 square kilometre area in Gloucestershire.
A second licence for a pilot cull in Somerset is still being considered.
A long-term study found that culling over a number of years on a large scale could reduce the incidence of TB in cattle herds by 16%.
Load more updates
Back to top