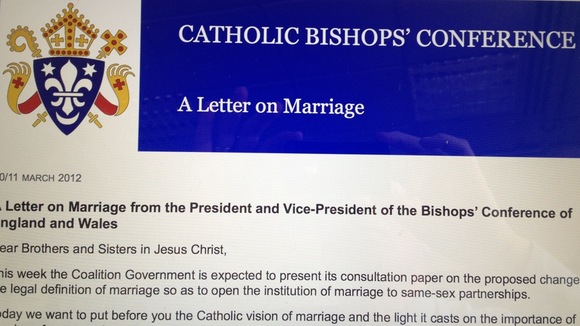 The Education Minister, Leighton Andrews, has written to all headteachers of Catholic secondary schools in Wales, warning them of the risks of showing their pupils a letter from two Archbishops, or reading it to them. The letter is signed by the head of the Catholic Church in England and Wales, Archbishop Vincent Nichols of Westminster and by Archbishop Peter Smith of Southwark, formerly Archbishop of Cardiff.
The letter, setting out the reasons why their church is opposed to gay marriage, was circulated to secondary schools by the Catholic Education Service, with a covering email suggesting that pupils could be asked to consider signing an online petition opposing a change in the law.
A change in the law would gradually and inevitably transform society's understanding of the purpose of marriage. It would reduce it to just the commitment of the two people involved. There would be no recognition of the complementarity of male and female or that marriage is intended for the procreation and education of children.
– Archbishop Vincent Nichols and Archbishop Peter Smith

Leighton Andrews has reminded headteachers that people who sign the petition should be at least 16 years old. He has also warned them that if they bring political issues to pupils' attention, they must also offer opposing views to ensure balance.
I trust you will ensure that if your pupils have been made aware of this correspondence, they will also be made aware of the converse view in order to give them a balanced perspective.
– Education Minister Leighton Andrews AM

The Catholic Education Service has defended its actions, arguing that it was reasonable to suggest using the letter in lessons or reading it out in assembly. Headteachers were also asked to consider asking pupils and parents if they might want to sign the petition.
Schools with a religious character are allowed to teach sex and relationships – and conduct assemblies – in accordance with the religious views of the school. The Catholic view of marriage is not a political view; it's a religious view.
– Catholic Education Service

Catholic schools are largely state-funded but enjoy considerable freedom in their religious teaching. The Archbishops have found themselves testing the boundary of where that freedom spills over into political controversy.