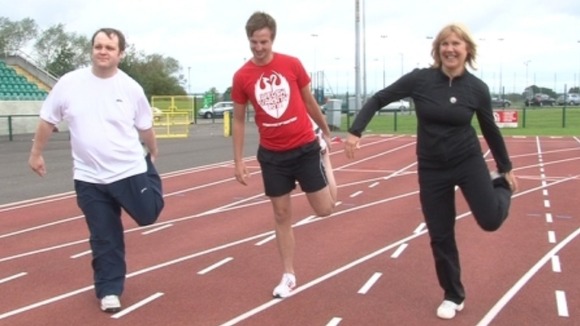 1,100 NHS staff in Wales are beginning new healthy-living regimes today. They are hoping to act as role models for their patients and the wider public, in the 'Champions for Health' campaign.
The number of staff signing up has exceeded expectations. There are now workers from every health board and NHS trust in Wales, as well as the Welsh Government's health and social services department, taking part.
The response from staff across Wales to Champions for Health has been absolutely fantastic. Champions for Health is a great opportunity to build on the excitement created by a fantastic summer of sport and today sees the start of a six month challenge which will not only encourage NHS staff to improve their health but will set the tone for a healthier nation. NHS staff are our greatest ambassadors and by leading by example they will show their patients and the public how important it is to lead a healthy lifestyle to ensure we have a prosperous and sustainable Wales.
– Dr Ruth Hussey, Chief Medical Officer for Wales

The campaign has earned the backing of Welsh sports stars, including double Olympic champion rower Tom James.

400m hurdler Rhys Williams is also on board. He has been sharing training tips with NHS staff - including Zoe Whale from Velindre NHS Trust - at Cardiff International Sports Stadium.

The staff taking part will be aiming to follow through on two of the following lifestyle changes:
Drink safely
Take regular exercise
Eat healthily
Stop smoking
Work toward a healthy weight
Each member of staff will be setting their own challenges and their progress will be tracked over the next six months.
The Chief Medical Officer for Wales' Annual Report in 2010 showed:
45% of the adult population in Wales drink above the daily guidelines
70% do not take recommended levels of physical activity
64% do not eat five portions of fruit and vegetables per day
20% smoke
58% are obese or overweight
We know that many people in Wales need to make changes to their lifestyles to improve their health and the long term health of the nation.Even small changes in health behaviours can lead to significant increase in life expectancy and this campaign will be about measuring changes for improvement not for judgement.If you become healthier you keep well for longer and can reduce the chances of developing chronic conditions that limit quality of life and put pressure on much needed resources.This is a chance to make a real difference and I would like to congratulate everyone who has signed up and wish them well on their journey to becoming Champions for Health.
– Dr Chris Potter, senior lecturer in public health at Cardiff University

The campaign is being led by the Directors of Public Health in Wales, and supported by Public Health Wales and the 1000 Lives Plus programme.