The pit, situated in Treharris, closed after more than 100 years of mining. Miners and their friends held a ceremony to remember it.
Read the full story ›
The film got its premiere in Brynmawr on Thursday night and was attended by some of those who participated in the strike.
Read the full story ›
Advertisement
The UK Government is being urged to apologise for the actions of Margaret Thatcher's government during the Miners' Strike of the 1980s.
The walkout heralded the eventual closure of many Welsh pits, a blow - some say - from which our mining communities never fully recovered.
But Prime Minister David Cameron says it's others who should be doing the apologising.
James Crichton-Smith reports.
Ministers will not apologise for the treatment of mining communities by Margaret Thatcher's government during the 1984/5 miners' strike because it was held without a proper national ballot, Cabinet Office Minister Francis Maude says.
Mr Maude said those campaigning for reconciliation and transparency will have to wait to see any Cabinet papers from the time of the strike when they are released under the 30-year rule.
Prime Minister David Cameron responded to Michael Dugher MP's call the Commons for an apology for the Miners' Strike and pit closure programme.
PM says the only person to make an apology for miners strike should be Arthur Scargill. And perhaps Labour for their behaviour at time.
Shadow Welsh Secretary Owen Smith said the legacy of pit closures is still felt in former mining communities.
Read the full story ›
Advertisement
A memorial has been unveiled to commemorate those who died in mining tragedies in Wales.
Mining disasters at Aberfan, Six Bells and Gresford just some that stand out in Welsh History. Megan Boot has been looking at the personal stories behind some of those tragedies.
Today marks the centenary of the Senghenydd mining disaster in which 439 miners were killed. Today, the small town came together to remember those who lost their lives and the families they left behind.
A monument was unveiled to mark the anniversary of the disaster and other tragedies across Wales, as Carole Green reports.
The First Minister has taken part in a memorial service marking the centenary of the Senghenydd mining disaster.
Thousands turned up at Senghenydd memorial today to honour all the Welsh miners who have died - a brilliant tribute http://t.co/D3j7ocuusr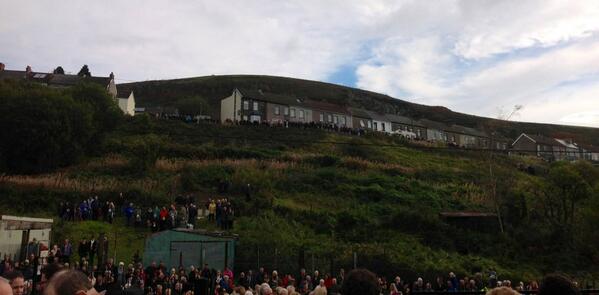 Load more updates