Huge investment for rail network
Massive investment to improve region's rail network
Call for better rail links to North East Lincs
The Government face calls to upgrade rail links to North East Lincolnshire during a Commons debate. It comes after the Transport Secretary, Justine Greening, unveiled plans to electrify the Midland Mainline into Sheffield, as well as funding for the Northern Rail Hub and
extra capacity on the East Coast Main Line. Martin Vickers, the Conservative MP for Cleethorpes, says he hopes the plans announced yesterday could help pave the way for direct routes from North East Lincolnshire to London - something he describes as "vital for the economic regeneration of the area".
Sheffield - 'biggest winner' in Government rail announcement
Calendar reporter Paul Burland takes a look at exactly what the Government's announcement will mean for rail passengers in our region.
Advertisement
RMT union slams Government rail plans
The Nation Union of Rail, Maritime and Transport Workers (RMT) have reacted to the Government's rail investment announcement. RMT General Secretary Bob Crow said an investment in rail today is what's needed not a 'political promise of jam' tomorrow.
"All of the rail projects on this shopping list have been talked about for years and with the surge in passenger demand we cannot afford further delays like the ongoing Thameslink fleet replacement fiasco.

"We have the chance to create thousands of rail jobs if the politicians wake up and get these projects moving."

"The truth that the Government choose to ignore is that all of these investments could be funded overnight without costing taxpayers or passengers a penny if they called a halt to the multi-billion pound rip off of rail privatisation."
– Bob Crow, RMT General Secretary
Hull misses out over rail investment says MP
Hull North MP Diana Johnson has responded to news that local rail line between Hull and Leeds will not benefit from rail electrification upgrade under plans announced by the Government.
Faster and more efficient rail links are an important part of Hull's economic regeneration and I'll be asking why this Government doesn't appear to recognise this.
– Diana Johnson, Hull North MP
Instead this Coalition Government is being short-sighted, yet again, about Hull and are failing to grasp an opportunity for supporting business regeneration in the Humber. Hull taxpayers and rail passengers will bear the costs of the improvements that will happen elsewhere in the country from 2014, without seeing electrification to upgrade our local lines.
– Diana Johnson, Hull North MP
Rail investment needed now!
Shadow Transport Secretary Maria Eagle has told ITV News investment in the rail network is needed now, not in 2014, when the Government plans to begin its schedule of improvements. Click here to see her full interview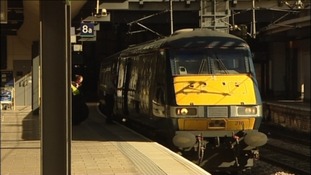 Government announced the biggest investment in railways since Victorian era
Read the full story
Advertisement
Rail boost will link passenger routes
The government's 9.4 billion pound investment package include 4.2 billion of new projects. These include a passenger and freight corridor linking the east and west midlands and Yorkshire with the south of England.
MP welcomes railways investment
Harrogate & Knaresborough MP, Andrew Jones, has welcomed news of a £16billion investment in the railways across England and Wales announced today by the Secretary of State for Transport, Rt Hon Justine Greening MP.
Mr Jones, who is the Parliamentary Private Secretary to Ms Greening said that the investment would bring growth and jobs to the north.
On the right track - £9.4bn for rail network
A £9.4bn package of investment across the rail network has been announced by the government. Plans include the electrification of Midland Main Line between Sheffield and Bedford. It will speed up journey times and is expected to be one of biggest programmes of rail investment in the country.
Transport Minister to announce massive investment to train network
The Transport Minister Norman Baker will be visiting Leeds station to announce millions of pounds worth of improvements to the train lines. It will speed up journey times and is expected to be one of biggest programmes of rail investment in the country.
Back to top