Cable vows to cut back red tape
Hundreds of thousands of businesses are to be exempted from health and safety inspections under moves announced by Business Secretary Vince Cable today.
New business minister Michael Fallon has said the Government is taking steps to save businesses money, and free them from the burden of unnecessary health and safety regulation. He said:
"We are talking about low risk premises, like offices and shops, where you don't need the same annual regime of council officials coming in and ticking boxes"
Research carried out by YouGov for Zurich shows that 70% of 'senior decision makers' from Small or Medium Size Businesses (SME's) support today's announcement to cut red tape. Richard Coleman, Director of SME at Zurich Insurance said:
While most businesses would accept there's a vital need for regulation in areas such as health and safety, UK SMEs are clearly looking for simplification to focus on what they do best - fuelling economic growth.

The fact that SMEs tell us this concerns them more than access to finance is a clear indicator that they still feel over-burdened by red tape.
Advertisement
Shadow Business Secretary Chuka has been granted the opportunity to question Business Secretary Vince Cable on his plans to 'cut back on red tape' and reduce health and safety obligations for employers.
Been granted my Urgent Question to force the BIS Sec to come and outline his industrial strategy in the Commons today before his speech tmr
Mr Cable will be forced to appear in the Commons at 3:30pm this afternoon.
Shadow Business Secretary Chuka Umunna has hit out at the Government's plans to cut health and safety legislation requirements for businesses. He said:
"We are not in a double dip-recession because of a failure to deregulate, we are in a double dip-recession because the government's failed economic plans have pushed us into this situation."
The Health and Safety Executive, the national independent watchdog for work-related health and safety, said it is already working with industry to make health and safety clearer for businesses, whilst maintaining minimum standards for workers. A spokesman said:
HSE is working to make health and safety clearer and simpler for businesses to understand and comply with, while maintaining essential protections for workers and the public. We have reduced the number of proactive inspections by a third over the last year by better targeting of those inspections on higher risk industries and poor performers.
Richard Jones, head of policy and public affairs at the Institution of Occupational Safety and Health hit back at the announcement that the Government was planning to cut back on "more than 3,000 regulations."
The talk of reducing around 3,000 regulations and at the same time focusing on health and safety is misleading. There are only 200 health and safety regulations in total, so any reduction in these will be a tiny percentage of the 3,000, and so far only 21 have been considered.
Advertisement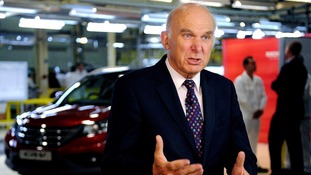 Hundreds of thousands of businesses are to be exempted from health and safety inspections under moves announced by the Government today.
Read the full story
This all-out attack on safety will have lethal consequences for workers and the public alike as businesses are given the green light to cut corners.

Vince Cable's set of plans will drag the clock back and goes hand in hand with massive cuts to the enforcement arm of the health and safety executive.

This isn't about cutting red tape, it's about cutting the throat of safety regulations and the trade unions will mobilise a massive campaign of resistance.
– Bob Crow, leader of the Rail Maritime and Transport union
The Government's efforts on deregulation are welcome.

Today's announcements are good news if they are the beginning, not the end, of the deregulation story.

Excessive regulation costs time and money, both of which businesses would rather spend on developing new products, hiring staff and building up British business both here and abroad.
– Alexander Ehmann, head of regulatory policy at the Institute of Directors
In these tough times, businesses need to focus all their energies on creating jobs and growth, not being tied up in unnecessary red tape.

I've listened to those concerns and we're determined to put common sense back into areas like health and safety, which will reduce costs and fear of burdensome inspections.
– Business Secretary Vince Cable
Today's announcement injects fresh impetus into our drive to cut red tape. We have identified the red tape and now we are going to cut it.

We're getting out of the way by bringing common sense back to health and safety. We will now be holding departments' feet to the fire to ensure all unnecessary red tape is cut.
– Business Minister Michael Fallon
Load more updates
Back to top